Soloists Lorena Paz Nieto and Susan Legg look forward to Elgar's The Kingdom in concert with us at the Oratory School, Woodcote on Saturday 30th March. They are both passionately committed to Elgar's music and as excited as we are at the opportunity to perform this beautiful work. It will be Lorena's debut in the role of Mary, while Susan is " a huge fan" of both Elgar and Benson Choral Society. We can't wait to be singing with them!

Soprano - Lorena Paz Nieto

I can't wait to perform this beautiful piece. This is my first time singing The Kingdom and it has been such a revelation getting to know it, I feel specially lucky to have the wonderful aria "The sun goeth down".

More information about Lorena can be found

here

,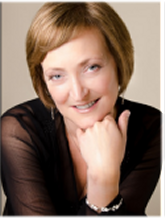 Mezzosoprano - Susan Legg


I'm a huge fan of both Elgar and Benson Choral Society!

Previously much-enjoyed concerts with them include another very memorable Elgar evening performing The Dream of Gerontius. Conductor Christopher Walker had studied the work with precision and sensitivity and was wonderfully empathic towards the singers and orchestra, resulting in a thrilling experience in the atmospheric surroundings of Dorchester Abbey.

Elgar was very particular with his markings in his scores; dynamics, rubato and articulation are considered in incredible detail, making quite a task for musicians to adhere to his desires! Christopher Walker is always alert to Elgar's exacting requirements and I always enjoy exploring his insightful and intensely musical way of working in rehearsal and can look forward to the concert in complete confidence. So you can imagine how much I'm looking forward to singing The Kingdom in March!

Perhaps less performed than Gerontius, The Kingdom doesn't disappoint and stands as a masterpiece in its own right. There is plenty for the mezzo soloist to enjoy and of course the soprano soloist can wallow in the exquistie solo The Sun Goeth Down with the soaring opening and poignant violin solo, showcasing Elgar's incredible string writing. The audience will surely be both moved and entranced.

I've sung The Kingdom in many venues, including a memorable performance in Canterbury Cathedral with Mark Deller and soprano Lynne Dawson, who was enchanting. But also of huge interest to me is the opportunity to sing this magnificent work in the Oratory School. The link with Elgar is strong - John Henry Newman, author of The Dream of Gerontius, founded the Oratory School in 1859. And I hear now that he is to be canonised; the first English saint to be canonised in many decades. Perhaps something of the spirit of Elgar will be with us - I certainly hope so. It certainly promises to be a very exciting evening!